Dionisio de la Huerta was born in Barcelona on December 19, 1899, he had a Catalonian mother and a father from Asturias.
At the age of six, he joined the Colegio de los Jesuitas (Jesuit College) leaving at the age of fifteen, and he would spend his summers between Gijón and Coya where his father had built a beautiful family home dedicated to his wife. Dionisio stood out as a young student because of his intelligence: he was top of his class and was well known for his artistic talents and singing voice, which was recognised at various cultural and sporting events. He graduated at the age of 18 with a Law degree from the University of Barcelona and at the age of only at 19 he received a PhD in Law.
His first sporting efforts involved kicking a ball around. He was a talented rugby player but because of injury he could no longer continue to play and this stopped him from playing other contact sports, and so, instead he focused on tennis which he had also played since childhood.
In 1920, he started military service and witnessed the conflict at Mount Gurugú and the victory in the war in Africa. In 1921, he was promoted to officer status. He came back to Asturias where he celebrated his return alive from a battle which he would never forget.
Tennis became a vital part of Dionisio's life and led to him giving up his job as a lawyer in order to follow his passion for sport. Tennis allowed Dionisio to travel around the world twice and to meet new people and see different countries. Thanks to his tennis career, Dionisio was frequently selected for the Spanish national team and competed with many of the best tennis players in the world, winning the championship in Catalonia in 1933. He also became the secretary of the Spanish Tennis Federation and captain of the Spanish national team between 1933 and 1958.
Dionisio bought his first canoe in 1929 when he was about to catch a train from Barcelona to Gijón. He first began practicing with his new canoe down the River Grande, between Coya (from the Molino dam) and Infiesto, and was sometimes joined by Benigno Morán Cifuentes.
With his experience of canoeing down the Piloña River, the first descent Dionisio took down the Sella River was a simple and enjoyable adventure. Alfonso Argüelles and Manés Fernández accompanied him and the descent lasted for more than four hours travelling around twenty-five kilometres. On this occasion, their focus was on enjoying the journey rather than a rapid descent, and when they finished, they celebrated on the river bank with many friends.
Dionisio was in Asturias when the civil war broke out and he returned to be with his family in Barcelona. There is very little known about this period in his life, other than that he occupied himself by writing letters, verses and plays.
Dionisio continued his intensive tennis schedule in 1938, but the summers spent in Asturias had given him the idea of starting a Sella River canoe competition. His hard work finally paid off in 1951 when the Sella River Descent became an international event. The numbers of people taking part in the descent increased every year from 1951 and Dionisio dedicated more and more time to his Fiesta of the Piraguas and by the time he reached his mid-fifties it had become the focal point of his life.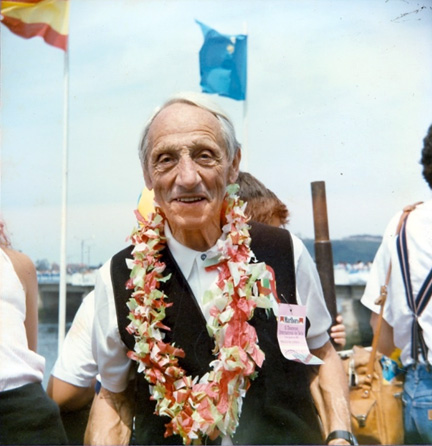 Dionisio de la Huerta at the arrival of the International Sella River Descent to Ribadesella
Dionisio promoted his event with the idea that athletes and spectators would not only be witnessing and taking part in an international sporting competition (because he believed that there were other better races), but would also be visiting one of the most beautiful places in the world if they visited the Sella River.
Dionisio eventually resigned giving up his role in organising the Sella River Descent in 1972, because of ongoing disputes with the Canoe Federation. He again became involved in 1980, which was the 50th anniversary of the first descent and his return was a special occasion. In 1972, VIPs from a range of sporting federations, politicians and other bodies involved in sports and tourism were present to witness the race. That year, Dionisio returned to beat the record for the Sella River Descent competing against several former champions amongst his opponents. The event that year was the largest that the descent had seen with more than 200,000 people gathered between Arriondas and Ribadesella in order to watch and to cheer on the "king" of the descent, the creator of the event who opened the parade on a convertible car, like an emperor of modern times.
Without question, the Sella River Descent, without its great creator, would be a successful sports competition, but it would never achieve the status of the spectacle it has now become. Without Dionisio de la Huerta, the "Great Fiesta of the Piraguas" would not be possible.
Throughout his life, Dionisio de la Huerta received numerous awards and medals including:
Honorary and permanent secretary of the Royal Spanish Tennis Federation.
Honorary member of the Turó Tennis Club and several other Spanish and foreign tennis clubs.
Golden apple of the Asturian Centre of Madrid.
Honorary member of the Lawn Tennis International Association.
Sports Merit medal; awarded to him three times.
Medal of Asturias to Dionisio de la Huerta.
Medal of the Forgers of Sport, of the Generalitat of Catalonia.
Bronze plaque in Ribadesella.
Bust and plaque in the Plaza del Cañón in Arriondas.
Monolith in Pialla, Infiesto.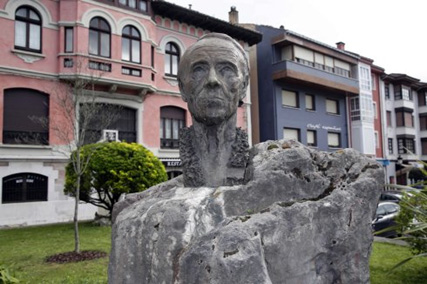 Tribute to Dionisio de la Huerta in the Plaza del Cañón, Arriondas.
Source: www.elcomercio.es
In August 1994, Dionisio de la Huerta took part in what would ultimately be his last Sella River Descent. A sudden illness in March 1995 led him to be bed bound and on the 4th April 1995, Dionisio died at the age of 95.
Bibliography: Cuesta, J., 2004. Dionisio de la Huerta. Un hombre de tres siglos. 2nd Edition.