Dionisio de la Huerta was the founder, promoter and organiser of both the Fiesta of the Piraguas and the Sella River Descent. His creativity and organisational skills have made him the architect both of this competition and of the fiesta, which is unique in the world due to its originality, beauty, vibrance and its spectacularity.
Over time many of the initiations and ceremonies introduced by Dionisio de la Huerta have become a central aspect of the Fiesta de las Piraguas; which has been officially declared as a "Fiesta of International Tourist Interest".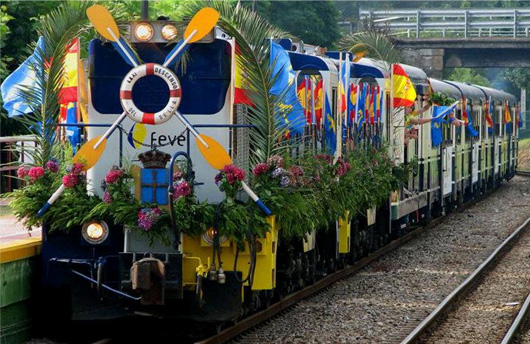 The decorated train which accompanies the race to the finish line in Ribadesella can be found at
Source: www.trekearth.com
The idea of the train accompanying the race and the flower necklaces were brought from India by Dionisio. The first train was initiated in 1945 starting in Infiesto and the following year in Oviedo. Many of them were decorated and commissioned in Barcelona by Dionisio.
The local population wear flower necklaces, waistcoats and the traditional Asturian hat..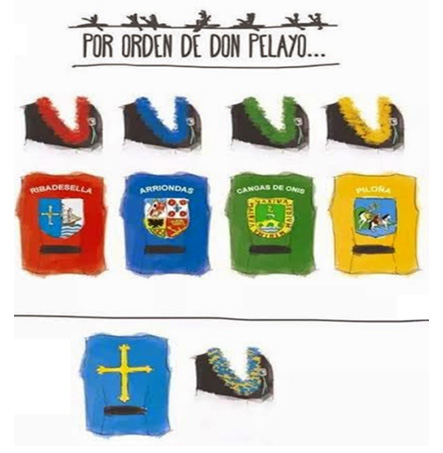 Typical clothing of the event attendees includes a waistcoat and the flower necklace.
Source: Little Moments.
The day of the Asturian Fiesta, which is greatly anticipated by the locals and participants, is as follows: early morning, the canoeists and spectators arrive in Arriondas, and at 11am the parade involving people from the local area begins. The parade depicts a mix of Asturias traditional culture and traditions directly linked to the Piraguas. The parade consists of music groups playing the local instruments, such as bagpipes, other figures with giant masks on their heads, local children dressed in traditional costumes or locals from Infiesto dressed up as Neptune, who have the role of clearing the river of drunken partygoers prior to the start of the race. The waistcoats worn by the inhabitants of the local towns and large villages all have their own colour, in order to identify their origin. The procession parades down the main street of Arriondas to the bridge over the River Sella (Emilio LLamedo Bridge).
At 12pm, more than 1,000 canoes then line up on the river bank and after the greatly loved Asturian anthem is sung the race starts. All of the participants start at the same time. In the River Sella, the canoes compete to reach the bridge of Ribadesella (Dionisio de la Huerta Bridge). On the left side of the river, the train carries large numbers of spectators, whilst on the righthand side cars, motorbikes etc. all follow the race and cheer on the canoeists from the road… The road is a like party itself.
Ribadesella is full of spectators and partygoers who cheer on the canoeists as they pass through the bridge. They then return to the Campos de Oba, in Llovio, for a picnic, where they are entertained by bagpipes and Asturian folk dances. The locals dress up and gather to celebrate in Arriondas and Ribadesella, which is the finale to the great Fiesta of the Piraguas.